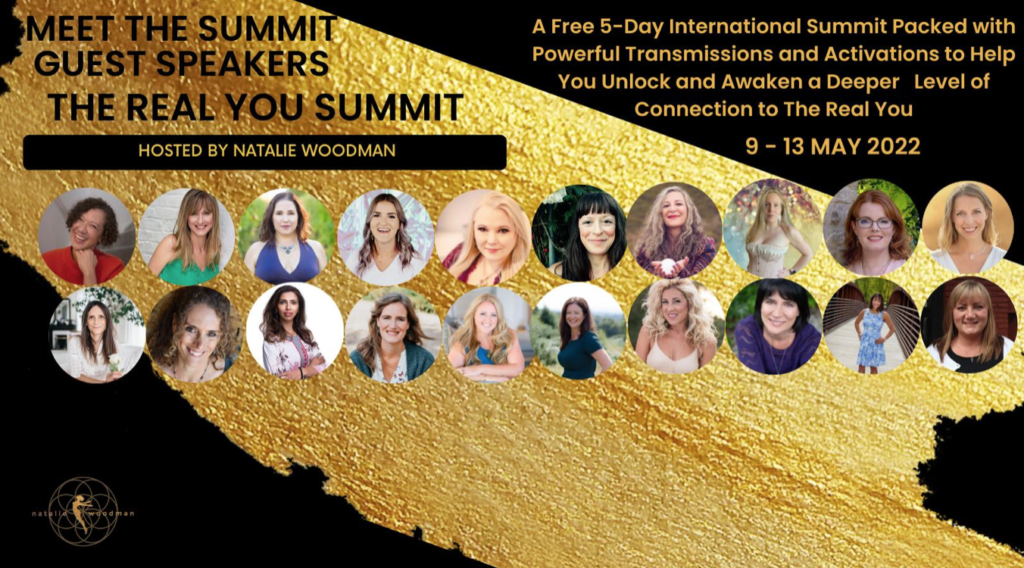 I have something really exciting to share with you. I will be part of FREE The Real You Summit taking place from the 9th to the 15th of May with 19 other amazing speakers.
The expectation of this Summit is that you receive immense value and wisdom from an amazing group of leaders in the industry as we dive deeper into the conversation of the unfolding of The Real You and the importance and magic of Feminine Energetics. These interviews are designed to help stimulate and inspire you, activating and awakening within you that next level of expansion that you are ready for as you move from the 3D to the 5D way of being, living and working.
Over the course of 22 sessions, you will receive sacred embodied wisdom from each of these powerful and incredible speakers. Each of these powerful interviews holds a unique message for you to receive. These are all designed to activate and awaken the reclamation within you of The Real You!
Will you join us for these juicy awakening conversations?
You will not want to miss this summit!
Here is what you can look forward to in The Real You Summit Series:
Natalie Woodman Opening and Reclaiming the Real You: Body, Purpose & Business
Jennifer Longmore The Journey of the Solar Feminine from 3D to 5D
Elizabeth Purvis Divine Standards of the Feminine Magic in Life and Business
Cory Michelle The 5D Ascension Path
Rachel Hardy Rebalancing Your Nervous System After Trauma
Delphine Rose Lumiere Healing the Divine Feminine
Jennifer Spor Aligning to Your Purpose and Mission
Jen Duchene Activate Your Inner Glow
Louisa Havers Activating Wealth with Your Soul Aligned Purpose
Anne Whitehouse Reconnecting to Your Power
Kim Van De Sande Living from Your Love and Light Frequency
Danielle Rama Hoffman Being a Divine Channel
Natalie Woodman 5 Essential Muscles to Embodying and Reclaiming The Real You
Emily Logan Reconnecting to Your Psychic and Intuitive Gifts
Anna Golden Ray Your Body as a Spiritual Tool
Mona Naidoo Discover the Real You Activation: A magical journey to uncover the treasures within
Michelle Orwick Connecting to Your Inner Priestess
Renee Marcou Claim Your Powerful Voice Activation: A Throat Chakra Activation and Healing
Melissa Lisette Activating your Earth Wisdom
Amanda Kunkel Tapping into Your Universe Connection
Bernadette Gold Reclaiming Your Psychic Self
Natalie Woodman Accessing Sacred Feminine Wisdom Activation and Closing
Sign Up Free Here
or VIP Here